Duplicate files are the identical copies of certain files on your computer, which accumulate as a result of excessive copy-pasting errors, repeated attempts of data download or even when you store the same file in two different locations on your disk drive.
Identical files eat up memory and storage space of your computer, making it difficult for you to manage files. It creates a sense of confusion, making identification of the correct version of files inconvenient. Above all, it makes backup a time-consuming process unnecessarily. This is why you need tools for identifying such files and removing them with ease. Here is a list of
top five duplicate file finder and remover software
, which you definitely need to try:
This software is fast and efficient. It lets you find files by name, content, or date. You can find identical images or even compare duplicate music files with the help of tags. You can look for files locally or on the network. The pro version of the software has added features like Duplicate Folder Views, Image Comparison, Zip File Search and other amazing aspects.
Key features:
The software features a Selection Assistant tool which assists in choosing the files to be removed. You can trash these files, or copy them to another location. Also, built-in safeguards ensure that the process is secure.
Anti-Twin is comparatively a small software for duplicate file identification on hard disk drives. The software helps in managing disk storage spaces via direct file deletion. It is a freeware and available for use in various international languages as well.
Key features:
Identical files can be searched for, sent directly to the recycle bin, or completely deleted. There is even an option for comparing the entire binary content of two or more files. In other words, the software is dependent not just on the name of the files, but their content, too.
3. Easy Duplicate Finder:
This duplicate file detecting software is rich in features and promises to control the unruliness of files in your computer. Although it is a powerful, effective program, it often tend to be buggy. The interface of Easy Duplicate Finder is old-fashioned, but user-friendly.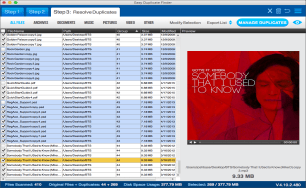 Key features:
The software lets you scan folders and sub-folders by simply dragging and dropping. Various filters are available for scanning duplicate files according to types, file size limits and folder exclusion, too.
4. Auslogics:
Recommended by experts, the Auslogics Duplicate File Finder is a freeware with no term limitations, both for personal as well as commercial use. Because the program runs on smart algorithms, it allows file comparison using not only file names, but also content. This feature is helpful because it dismisses all false search results.
Key features:
Intelligent algorithms of the program ensures that no false search results. Also, you can specify file types, scan search results and manually delete identical files. The program is very safe and effective in multiple tests.
5. CloneSpy:
CloneSpy, the duplicate file detecting program, lets you perform quick scans, which is helpful in performing identical file cleanup in a jiffy. Once you have the results, you can manually remove the unwanted files from your computer system. Scans can be carrie
d out by specifying file names and content.
Key features:
The program helps in finding the older versions of identical files. The biggest advantage of this software is that it lets you identify files that contain zero data, but still occupy space in your computer storage.
Duplicate file identifier and deleter software are very much needed as we can easily lose track of those millions of images, videos, music files and documents thronging in our computer system. Moreover, if you are running out of disk space, it is better to have your system cleaned properly with the help of such programs.